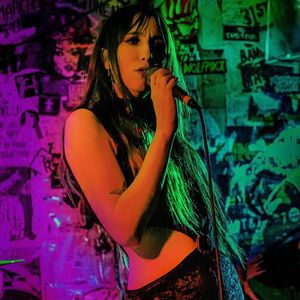 Fierce, feelsy and female fronted, Chloe Kay and The Crusade are the newest soulful blues rock band taking Australia and the world by storm.
Known for her soulful powerhouse vocals and impassioned live performances, Chloe Kay and her mesmerising band of musicians are becoming well known on the festival circuit.
The group closed out 2022 playing Woodford Folk Festival, they were finalists in the Bluesfest Busking Competition and performed at Bluesfest 2022, they played to a sold out Meatstock crowd, took to the stage at Cronulla Jazz and Blues Fest, Friends & Relatives Festival, Australian Blues Music Festival, Kiama Jazz and Blues Festival, Googfest and more. They've also spent the last year playing packed out headline and support shows across NSW.
Their latest single 'Broken Woman' was released in late September 2022 and has garnered support across the world. Joe Bonamassa added the song to three of his Spotify playlists, Triple J, FBi and CMT gave the song love with Triple J Morning's host Lucy Smith saying "A voice that'll make you sit the f*ck down and listen. The clarity, the range - outta this world!" and Soul Ctrl host Tyrone Pynor stated "I was listening to it, and don't @ me, but it's giving very early 2000s Beyonce with those massive vocals… Chloe's vocals just stand out above all else!" 
'Broken Woman' marks the start of a new chapter for the band; soulful, introspective and vulnerable this is Chloe Kay at her most powerful.
The band will be releasing new music in 2023.